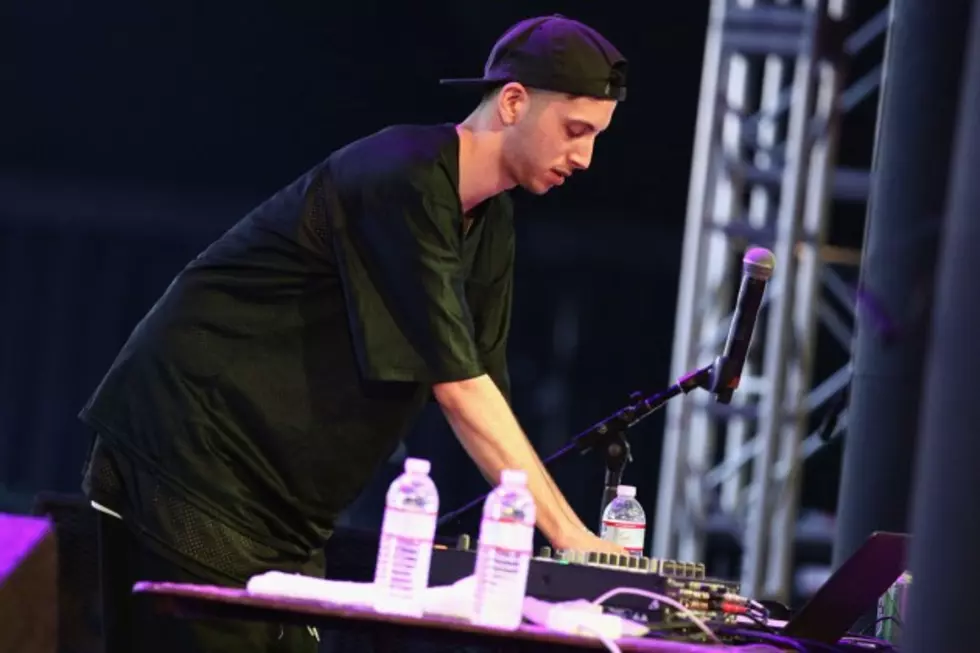 Shlohmo Announces New Album 'Dark Red'
Imeh Akpanudosen / Getty Images
Dark, mysterious, haunting and delicate, Dark Red is the second full-length album from Shlohmo, a.k.a. 25-year-old Los Angeles native Henry Laufer. His most recent venture into electronic textures continues to expand the unique and stylistic nature of his music that has captivated those in search of new and progressive material. Laufer has developed his distinct style over the years and with each release it's plain to see that he's sharing a piece of his soul. Side-stepping current trends that lean toward pristine, computer-generated production, Dark Red explores natural distortion, fuzz and noise as compositional tools. The result is a deeply personal listen, Shlohmo's boldest statement yet.
Emotive and striking, Dark Red presents us with a cohesive album where each tune expresses a different part of Laufer's vision, from the melodic to the obscure. His music is straight up deep, both in nature and substance. "It sounds like if Electric Wizard tried to make an R&B record," he says, "or Boards of Canada meets Burzum by the River Styx." Ever evolving his sound, Laufer has come a long way since the enigmatic tones found in his debut Shlo-Fi EP (released back in 2009) and has continued on the path of originality ever since. Now with Dark Red, he opens up the next chapter of the Shlohmo narrative and sheds light on his innovative artistic expression.
Laufer explains, "When I started working on Dark Red about two and a half years ago, I had just moved back to LA and built a small studio in my apartment, mostly with my dad's old gear from the 80s. I had just lost some people close to me and was dealing with another loved one's health issues. I was all over the place mentally, and I think it reflects in this record whether I like it or not."
"The only thing I did know going into it, was that I wanted this one to be loud, and not just loud, but really, really f***ing loud. I wanted the sound of the thing to be devastating and violent. Recordings that force you to feel something even if that something isn't good. I'm proud to have made something polarizing, a record that's strong and undeniable even in its moments of pure anxiety and confusion. It's tragic and painful at times, but that's all part of it and I want that to be heard and felt. You don't have to like it, just listen to it."
Dark Red will be released April 7th, 2015 on True Panther/WeDidIt, with pre-orders available on iTunes, Amazon and True Panther. Fans will also be able to see Shlohmo's first ever fully live tour throughout the Spring in North America, with all dates below and tickets available on his official website. Listen to 'Burial' and 'Emerge From Smoke' below.
Shlohmo 2015 Live Tour Dates:
Mar 31 - Casbah - San Diego, CA
Apr 1 - Crescent Ballroom - Phoenix, AZ
Apr 2 - Sister - Albuquerque, NM
Apr 3 - Parish - Austin, TX
Apr 4 - Fitz (Upstairs) - Houston, TX
Apr 5 - Trees - Dallas, TX
Apr 6 - Republic - New Orleans, LA
Apr 8 - U Street Music Hall - Washington, D.C.
Apr 9 - Johnny Brenda's - Philadelphia, PA
Apr 11 - Irving Plaza - New York, NY
Apr 12 - Brighton Music Hall - Boston, MA
Apr 14 - Signal Kitchen - Burlington, VT
Apr 15 - SAT - Montreal, QB
Apr 16 - Hoxton - Toronto, ON
Apr 17 - Concord Music Hall - Chicago, IL
Apr 18 - Plush - St. Louis, MO
Apr 22 - Bluebird Theatre - Denver, CO
Apr 24 - Neumos - Seattle, WA
Apr 26 - Branx - Portland, OR
Apri 29 - The Arcata Theatre - Arcata, CA
Apr 30 - The Fillmore - San Francisco, CA
May 2 - Casa De La Roza - Santa Barbara, CA
May 7 - The Fonda - Los Angeles, CA