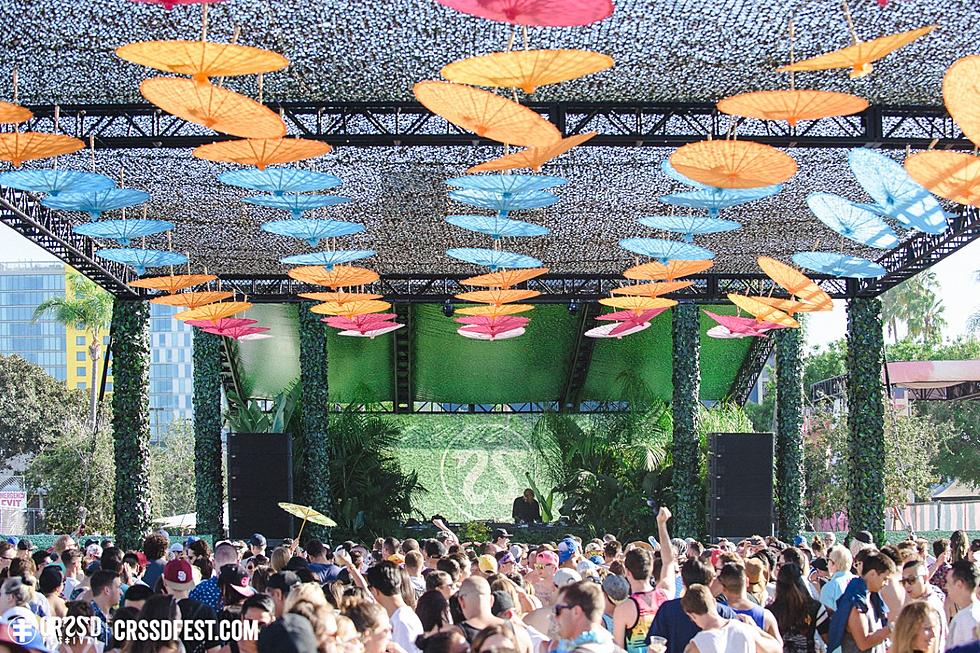 CRSSD FEST Fall 2016 A-Z Highlights
Skyler Green
Written By: Devin Carrillo
CRSSD FEST is arguably the illest boutique festival on the west coast. FNGRSS CRSSD, the festival's producers brought veterans ZHU, Flight Facilities, Justin Martin and more back to Waterfront Park in beautiful sunny San Diego for two days of deep house and techno-madness. Just imagine Chicago-house legend Lee Foss shutting down the City Steps stage, Miike Snow lighting up the Ocean View stage and a pineapple party with Thomas Jack at the Palm Stage – now that is what I call a stacked lineup. From A-Z we've compiled a comprehensive list of CRSSD Fest 2016's top moments. Check it out below!
A - AC Slater
The future house extrodinaire and Night Bass curator brought the Palms Stage some of CRSSD's most-finest deep beats.
B - Beer
Craft Beer, Light Beer, Dark Beer, all types of beer were available at the notoriously 21+ festival.
C - Crews
Maybe it's San Diego, or maybe the vibes were just right--but the crowd was absolutely beautiful. Imagine 50,000 gorgeous boho-chic flower children running around to house music for two days and there's CRSSD fest for ya!
D - Dancing
"Let's go dancing/ I wanna go dancing with you/ All night dancing."
E - Electricity
Lee Foss absolutely killed the City Steps stage, playing his hit single, "Electricity" with MK and Anabel Englund.
F - FKJ
FKJ's jazz-inspired sounds graced the City Steps stage for a sultry mid-afternoon delight.
G - Green Velvet
Flash (Latmun Remix) was the song of the weekend. Lee Foss, Shiba San and Lee Burridge each laid down some handy mixes of this lovely tech-house single.
H - Heads Up
The skyline was beautiful on the coast front and of downtown San Diego, sure; but the decor/shade at CRSSD kept us in awe as well.
I - ILLest of Festival Vibes
Maybe it's the beautiful weather and beautiful people that flock to the boutique festival, but the vibes were radiant this season; some of the best yet.
J - Justin Martin b2b Shiba San
nuff' said.
K - KUNGS
The dutch prodigy set the tone Saturday while absolutely killing the mainstage.
L - LEE FOSS
Best of the weekend, hands down. #TECHNO Listen to his full set streamed by MIXMAG here:
M - MIIKE SNOW
Their set closing out Ocean View Saturday night was everything we needed in that moment.
N - NORA EN PURE
Lookin' all cute
0 - Ocean View Stage
CRSSD might be the only EDM festival with a mainstage that hosts everything but big-room house; in fact, most of the acts on the stage are LIVE. And we think that's worthy of a #shoutout.
P - Parasols for days
R - REALEST
The realest set of the weekend had to have been Louis The Child. They absolutely murdered the mainstage.
S - Sunset
There's nothing like Flight Facilities and a San Diego Sunset.
T - TRAP QUEENS
NO TRAP QUEENS ALLOWED HERE.
U - Untz, untz, untz
Techno heads were in full swing at CRSSD though.
V - Views
Everywhere you looked, from the people, the stages, and the far off horizons had a view worth getting lost in.
W - Water Fountains
Playing in the water was definitely a highlight.
Z - ZHU
ZHU closed out the festival for a massive crowd, playing hits like his newest single "Generationwhy" oldies like his beloved remix of Lana Del Rey's "West Coast" Check out the gorgeous Waterfront Park by night here: