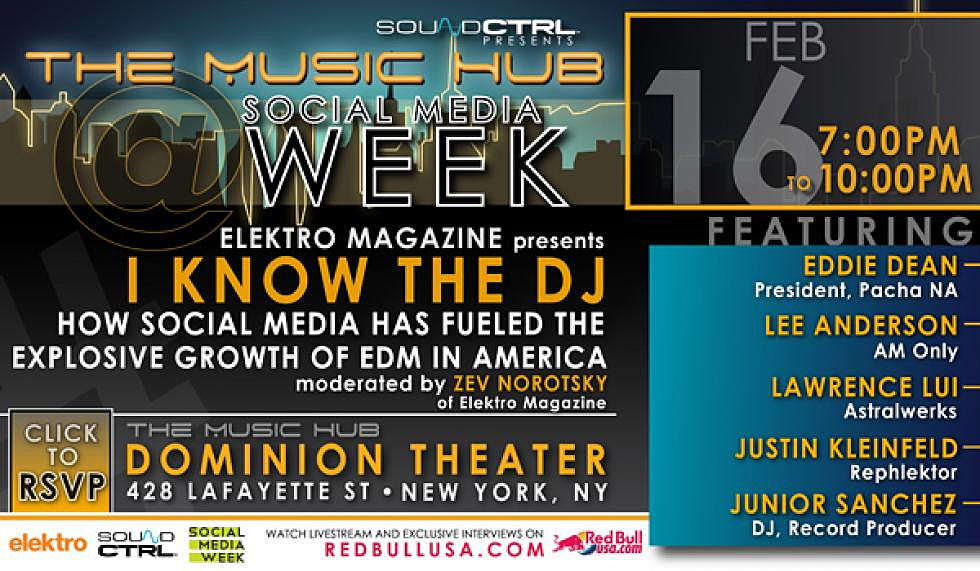 I Know The DJ: How Social Media Has Fueled the Explosive Growth of EDM in America Panel
As a part of SoundCtrl and Red Bull's Music Hub, 'I Know The DJ' will bring together some of the best in the EDM industry to discuss the exponential growth of dance music in America, what factors contribute to it's success, and what we can expect to see in the future.
When: Thursday, February 16 from 7:00 PM - 8:00 PM
Where: Dominion Theater - 428 Lafayette Street New York, NY
Panel followed by the Music Hub Reception | 8:30 PM – 10:00 PM | Presented by Elektro Magazine with a special performance by DJ Junior Sanchez.
Panel includes: Justin Kleinfeld (Founder/CEO Rephlektor), Lawrence Lui (Senior Marketing Director Astralwerks Records), Lee Anderson (Talent Agent AM Only), Eddie Dean (President Pacha North America), and Zev Norotsky (Founder Elektro Magazine).
Beer provided by Bud Light Platinum #makeitplatinum