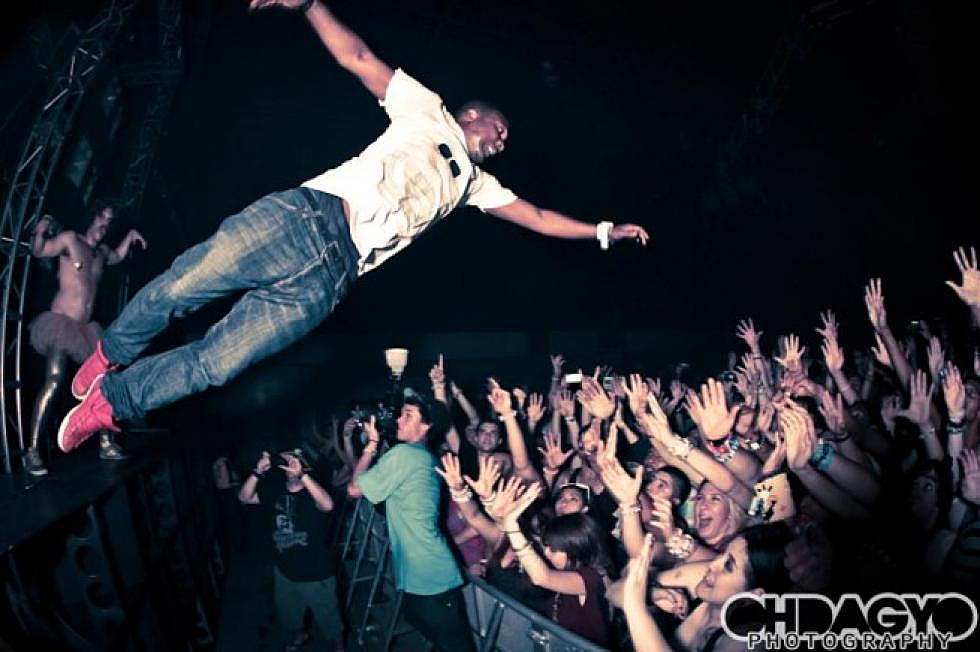 12th Planet Announces Tour and Release
The End is Near! Well, maybe just the end of quiet time, considering today's announcement of dubstep DJ/producer/luminary 12 Planet's EP, titled Scion A/V Presents: The End Is Near. There will be no need to add this EP to your holiday wish-list since the release will be available as a free download beginning January 18th, 2012. And once your ears have thoroughly warmed to the revered dubstep sounds of this mastermind, dubbed the "US dubstep godfather," UK's Mixmag, you can mark your calendar to catch him at one of his 28 shows for his 2012 North American tour. Presented by Scion A/V, the tour kicks off on February 2nd in Miami, FL.
Thank your lucky planets stars that you'll soon have a chance to experience for yourself why Skrillex brought 12th Planet on his 50-date 2011 sold-out tour and  Billboard Magazine named 12th Planet as one of bass music's foremost purveyors for 2011. Track- listing and tour dates listed below.
TRACK LISTING FOR SCION A/V PRESENTS: 'THE END IS NEAR' EP
1. 12TH PLANET & FLINCH - THE END IS NEAR PT.1
2. 12TH PLANET, SKRILLEX & KILL THE NOISE - BURST
3. 12TH PLANET & SPL - RATCHET STRAP
4. 12TH PLANET & ANTISERUM - GHOST
5. 12TH PLANET - JAILBREAK
12th PLANET 'THE END IS NEAR!' NORTH AMERICAN TOUR 2012
PRESENTED BY SCION A/V
Feb 2 Miami, FL @ Grand Central
Feb 3 Ft. Lauderdale, FL @ Revolution
Feb 4 Athens, GA @ Bad Manor
Feb 5 Atlanta, GA @ Masquerade
Feb 7 Virginia Beach, VA @ Peabodys
Feb 8 Washington, DC @ District
Feb 9 Baltimore, MD @ Soundstage
Feb 10 New York, NY @ Webster Hall
Feb 11 Philadelphia, PA @ TLA
Feb 12 Hartford, CT @ Webster Theater
Feb 13 Boston, MA @ Middle East
Feb 14 Montreal, Canada @ Le Belmont
Feb 15 Toronto, Canada @ Wrongbar
Feb 16 Chicago, IL @ Bottom Lounge
Feb 17 Detroit, MI @ Magic Stick
Feb 18 St. Louis, MO @ 2720 Cherokee
Feb 19 Nashville, TN @ Club Mai
Feb 20 New Orleans, LA @ Ampersand
Feb 21 Dallas, TX @ Trees
Feb 22 Oklahoma City, OK @ Kamp
Feb 23 Albuquerque, NM @ Sunshine Theater
Feb 24 Phoenix, AZ @ Madison Events Center
Feb 25 Las Vegas, NV @ Hard Rock
Feb 26 San Diego, CA @ Voyeur
Feb 28 Orange County, CA @ Dubtroit
Feb 29 Los Angeles, CA @ Music Box
March 1 San Francisco, CA @ Mighty
March 2 Portland, OR @ Roseland
March 3 Eugene, OR @ Wow Hall