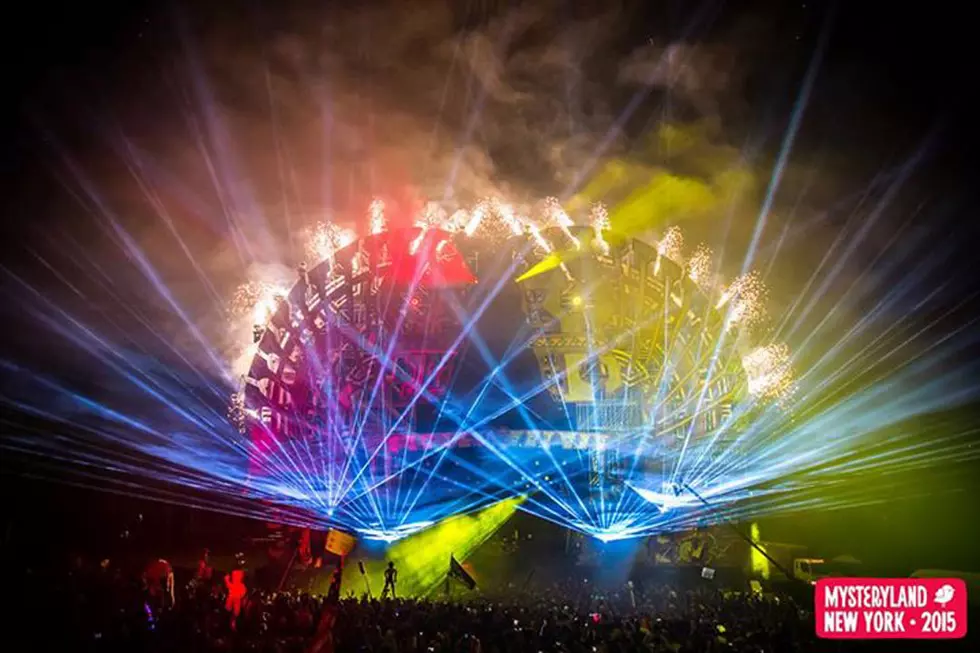 Mysteryland 2015: A Home for Every Genre of Dance Music
Mysteryland USA
Laying on a giant deflated teddy bear is not something you would experience in your normal daily life but, then again, I was at Mysteryland and the unusual quickly becomes the festy norm. During the day I remembered passing by the teddy bear as it was inflated, standing nearly 15 feet tall, with ravers in neon colors gathered around taking pictures. It wasn't until the sun went down that I stumbled on the teddy bear again, deflated, making for one of the most comfortable blankets I had ever felt. I was stuck there laying for almost an hour with not a care in the world but the festival was in full swing and there was some much needed exploring that had to be done.
The second annual Mysteryland Music Festival began during a cold Spring day on the grounds of Bethel Woods, New York. Festival campers filed in with their gear strapped to their backs, walking nearly a mile from their car to where they would set up camp for the weekend. Those who came prepared had carts to make the trip more bearable and once the tents were pitched and the tapestries were laid out, everyone was in the proper festival mindset.
At the campgrounds, the NYC underground crew BangOn! were the first to get the party started. Known for their elaborate warehouse events, they brought with them their iconic giant boombox stage complete with buses set up around the dancefloor for those wishing to climb up and dance from a prime vantage point. That very first party had energy from the crowd that was unlike any party that weekend. Everyone had a smile on their face, elated to finally be in the festival atmosphere, surrounded by like minded people. NSR and Luca Son of Wolf were the perfect choice of selectors for the early set. It was the ideal launch for the weekend and geared us up for what was to come.
The first day of the festival was solely for the campers and they took advantage of being the first ones there. Cliques were seen wandering the grounds partaking in various features that Mysteryland had laid out for them. Brooklyn's own Smorgasburg held down the catering duties by bringing in various local eateries serving up nothing but quality dishes the entire weekend. GTA and A-Trak were some of the first major players to perform, bringing with them their own flavor of bass music that was met with high praise from the raucous crowd. As night descended, the techno mob took over the Beatport tent for a night curated by legends of the scene. Josh Wink broke out the tribal rhythms that had even the most reserved patrons acting like animals. Then Maceo Plex gave us a euphoric set of dark and spacey techno, aptly closing with his new remix of WhoMadeWho's 'Heads Above'. It was a brilliant way to launch us into more thumping techno from Richie Hawtin who closed out the first night. A treat reserved only for the campers. We felt special.
With a stacked lineup of diverse artists such as Mysteryland's there was definitely a wide range of fans in attendance. I woke up the second day with my neighbors blasting hardstyle on one side and on the other side a crew was getting ready for some Gramatik later that night. It was a confusing way to start the day to say the least but, everyone has their own cup of tea as they say and I am not one to judge on individual music taste. There is literally room for everyone's preference at Mysteryland.
The festival was set up in such a way where all genres had their own unique showcase. The hardstyle herd could make venture to the Label Tent where they would get their fix from Q Dance while the Gramatik and future-funk crew would probably be at The Boat stage all day where Manic Focus, Minnesota, Beats Antique, Gramatik, and GRiZ would be performing. The techno fans could hit up the Beatport Tent where Adam Beyer and his Drumcode family were spinning all day as well. With focused showcases like this there were plenty of places to explore new sounds and the nine stage setup allowed that to happen.
Each day I would find myself at a different location, getting sucked into booming bass and mesmerizing visuals. The main stage lineup was filled with headliners like Diplo, Dillon Francis, Porter Robinson and Kygo but, the rest of the festival was equally buzzing with even more variety and quality. From Paco Osuna giving us a late night techno treat to Maya Jane Coles day time set of seamless mixing, the best thing to do at a festival like this is to not get tied down to one location and instead bounce around and absorb the complete experience.
Some of the best atmosphere at the festival came from Verboten. Located in the middle of the grounds they built what seemed like a massive club. It was like the Brooklyn venue packed everything up and transported their club to the festival. Each day the lineup for what they called the Spiegeltent was littered with Verboten regulars like Damian Lazarus, Bedouin, Jozif, Eric Volta, and Martin Buttrich who all have made appearances at Verboten in the past 6 months. A couple major highlights were Lee Burridge's 4 hour set and The Martinez Brothers closing out the festival. As Verboten is a club I attend often it was nice to have a little bit of home with me at Mysteryland.
Another hidden gem was the smaller Zeitgeist stage, tucked behind the trees at the top of the hill. This is where I had the pleasure of hearing some of the best skilled DJs all weekend. The Philly based duo Risky Disko had a 7 hour set on the first night that was a pleasure to stumble on from time to time. U.K. tastemaker Skream closed out the second night there and played a wonderful blend of house and techno. He's come a long way from the gritty London clubs and his style these days is a bit more sophisticated. The French Express crew with Moon Boots had their showcase at the Zeitgeist on the final day and Agoria's 2 hour set was truly blissful. As this was one of the smaller stages found at the festival it played host to some stellar talent.
Festivals that boast lineups filled strictly with electronic music have been a normal occurrence in Europe for some time but in recent years have seen a surge in popularity in the United States. The imported Dutch festival that is Mysteryland has been known for jaw-dropping stage designs and a massive production that stands above all others. This year they made sure to pull out all stops and create an atmosphere that was truly special (fire dome structure was one of the coolest things I have witnessed at any festival). The main stage was nearly 5 stories tall and each music tent was complete with it's own unique design and light show. There's a wide variety of events to check out for Memorial Day Weekend and it seemed as though the crowd was small and festival goers could move about the grounds with ease (which I found to be extremely convenient). As there was 50,000 in attendance, spread out across 9 stages at Bethel Woods, the production crew did a brilliant job making sure everyone was safe and comfortable. With great people, diverse music, and an atmosphere like no other, Mysteryland is soon to become a staple on the North American festival circuit.